If you're new to the earring-buying world, seeing all the types, shapes and colors can be a little overwhelming.
The first thing to think about when buying earrings is the person who will be wearing them. Earrings are meant to be an accent to the face of the person who has them on. When you are purchasing them you should think about that person, their personality and what kind of earrings will show them off.
You next need to know the styles of earrings available:
Stud Earrings

The most popular of all earring styles is stud earrings. In many cases these are earrings that have a larger gemstone or pearl with a post on the back. The main thing you see is the color of the stone or the iridescence of the pearl on the ear. The cut of the stone is the defining part of these earrings, whether it's in a princess cut, tear drop, or more traditional round. Some stud earrings have a little more to them. They may be a cluster of 3 or 4 smaller gemstones, or an earring base made of a precious metal that is accented with small gems. Stud earrings are popular with men and women alike.
Hoops & Dangling Earrings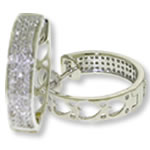 If you want a pair of earrings with a little more presence, you may want to move into hoops and dangling earrings. These all begin with a traditional hoop shaped earring. Some are just the precious metal hoop, others have gemstones set in the hoop, and still others have attractive gemstone or pearl dangles dropping down from the base of the hoop. Still others combine both items and have a gemstone-encrusted hoop with a gemstone dangle dropping below, to really shine.
Leverback Earrings

For the more active earring wearer, there could be concern that a regular fishhook earring will fall out. In this case you may want to consider an earring with a little extra security. Leverback earrings have the addition of a small lever in the back that makes a complete closed earring, so it will be more firmly held in place and offer added support.
Chandelier Earrings

Chandelier earrings know how to make a bold statement. Generally, chandeliers are larger earrings with a dangle from the ear that supports small drops of precious metal, pearl or gemstone. They are named for the impact they will have, that of a dazzling chandelier with many pieces hanging down.
Selecting an earring style is just one part of the equation.
Next it's time to decide if you would prefer a gold or silver setting, and choose the gemstone that will be placed in that setting. Again, this all has a lot to do with the person who will be wearing the earrings.
A good way to decide on the metal is to look at their current jewelry collection. Taking note of what kind of precious metal the majority of their jewelry is made of will give you an idea as to what they prefer.
When it comes to selecting a stone, again, consider any favorite colors they have, or colors they like to wear that you can accent with the piece.
While it may seem like you have to make a lot of decisions in selecting earrings, the great part of this decision is that there is no wrong size in earrings, as all earrings fit all ears. That is one variable you know you are going to get right.